FSMTC services and support for the 8th Micronesian Games 2014
Details

Category: News
Published: Thursday, 24 July 2014 13:25
Written by Kpress
Hits: 1385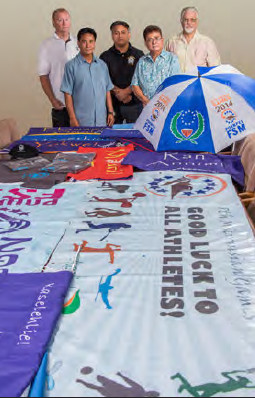 On Friday, July 4, representatives of FSM Telecommunications Corporation and Pohnpei True Value presented donations of goods and services to the organizers of the 8th Micronesian Games during a short ceremony at FSMTC headquarters. "FSMTC will provide a wide range of communications and support services to ensure the success of the games. This is done with an array of in-kind support and services that would be needed anyway for the smooth operation of the games which could become big budgetary costs for the MicroGames organizing committee," an FSMTC press release said.
"Our business partners have indicated real interest in underwriting the costs and ensuring that our support and services are prominent." The press release provided a bullet pointed list of items that FSMTC and its partners have provided, or will be providing for the games: • Special edition 8th MicroGames FSMTelCards to commemorate the games in all 4 states of the FSM. A portion of those will be donated for use in complimentary welcome kits for arriving team leaders, coaches, and VIP's as well as to provide support to the games. (Total value $2,000 or 400 pcs of $5) • Live Internet-based audio streaming via public radio broadcasts of the games. Any radio station can patch into the audio streaming. Total value $1,000 • Wi-Fi Hotspot coverage at Games venues and Media Center for high speed Internet access. Total value over $2,000 • ADSL upgrade to FSMNOC office for high speed internet access and smooth operation of games accreditation. Total value over $1,000 • Upgrade of telecom infrastructure for 3G cellular to ensure reliable coverage and capacity for the expected extra traffic.
Total value over $1.2 million • Telephone phone lines to game venues and athletes village for local calls. Total value over $1,000 • Telephone phone lines to Media group and WiFi Internet privileged accounts to registered media personnel. Total Value over $4,000 • Special edition 8th Micro Games cellular phones to be given to officials coordinating and providing support to the games. 70 basic cell phones (including SIMs) with logos of FSMTC and ACCLINKs (co-sponsor) and the 8th Micro Games. Total value $2,100. • 8th Micro Games Welcome Banners and Sports Venues Banners. ACCLINKs will co-sponsor the banners with FSMTC. Total value over $1,000 • Special Edition 8th MicroGames marketing products such as Umbrellas, Hats, and T-Shirts, being donated by FSMTC. Joint sponsors from ACCLINKs, True Value, and Etscheit Enterprises. Total Value over $14,000.