Spring Study Tour to Pohnpei, FSM
Details

Category: News
Published: Monday, 18 June 2018 00:43
Written by Bill Jaynes
Hits: 1334
Micronesia Conservation Trust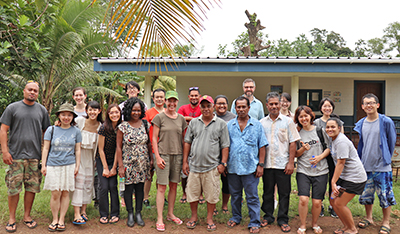 On March 24th to 31st 2018, Bertha Reyuw (Yap) and Bradford Mori (Chuuk), who are Bill Raynor MC Scholarship Recipients at Sophia University in Tokyo Japan, accompanied 12 Sophia graduate students in the Global Environmental Studies Programme with Professor Anne McDonald, on a study tour held in Pohnpei. Micronesia Conservation Trust staff helped coordinated this trip to be possible for the group. These graduate students consisted of three Doctoral Candidates and eleven Masters Candidates (including Ms. Reyuw and Mr. Mori) who are from China, Korea, Great Britain, Africa, and the Philippines.
The purpose of this study tour was to have the group experience first-hand challenges of the small island developing nations who are on the frontline of climate change, in regards to climate change adaptation, biodiversity conservation, and island sustainability. The agenda compiled by MCT for the trip included project site visits and meetings with local communities, State and National Government Officials. The trip activities were planned to provide perceptions of the environmental challenges Pohnpei and FSM, as a nation are facing, as well as the actions they are implementing to help reduce the impacts in the pathways of policy making and practical activities.
This trip not only taught the group about the environmental impacts and actions taken by local communities and partners in Pohnpei and the FSM, but it also has given them the opportunities to enjoy the island lifestyle and build friendship connections with the local people.
The group returned to Japan with full hearts of such memorable field learning experience which is documented in the form of a report and a blog compiled by the group. The report also contains the group's observations and identification of critical elements that need further consideration. The report will be shared once finalized, but the blog can be accessed with this link, (https://genvfsm.wordpress.com/ ). Also, an on-campus Seminar was organized on the 22nd of May, to allow the students to share with others what they have learned from the field in Pohnpei, FSM. Participants of this Seminar were the University's staff, students, friends as well as honorable guests, FSM Ambassador Mr. John Fritz, and APIC members, Mr. Shoji Sato who is a Former Japan Ambassador to FSM, and Mr. Megumi Araki.