USAID and IOM complete reconstruction collaboration in Chuuk and Yap communities following Typhoon Maysak
Details

Category: News
Published: Monday, 18 June 2018 00:43
Written by Bill Jaynes
Hits: 1453
International Organization for Migration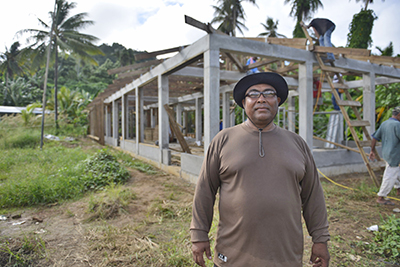 USAID, in partnership with the International Organization for Migration (IOM), marked the completion of all construction activities in Chuuk and Yap as part of the multi-year Typhoon Maysak Reconstruction Project (TMRP) as of April 15th.
In January, USAID and IOM celebrated the completion of Chuuk construction with a closeout ceremony in Weno. U.S. Ambassador Robert Riley, representatives from USAID, local government officials community members, and many of the IOM staff directly responsible for the reconstruction attended the event. In his address, Ambassador Riley acknowledged the accomplishments achieved through local partnership.
"Our event today is not just about completing construction projects," Riley said. "We're also celebrating how our governments, non-governmental partners and beneficiaries now have greater capacity to prepare for, respond to, and recover from disasters in the future. We have learned valuable lessons that will be indispensable to future recovery efforts."
The $42 million USD initiative by USAID repaired and replaced homes and public infrastructure damaged or destroyed by Typhoon Maysak in 2015. In Chuuk, community working groups constructed 328 new houses and 87 public infrastructure facilities, including schools, community homes and dispensaries, spread across 29 islands; both lagoon and outer islands. IOM staff handed over the final home last September and the final public infrastructure facility at the end of December.
In Yap, local laborers constructed 94 new houses and repaired or constructed 66 public infrastructure facilities across 5 islands of the remote Ulithi Atoll. A significant component of the construction in Yap was that of Outer Islands High School (OIHS) on Falalop, which Typhoon Maysak had rendered nearly unusable in 2015. IOM supported the repair and construction of 20 buildings on the campus.
The school is crucial to the education of youth in Yap's remote outer islands, and served roughly 160 to 170 students, according to OIHS principal John Ugulmar. However, the school was forced to limit enrollment during reconstruction due to a lack of space and textbooks.
As work was progressively completed on the OIHS buildings, more students were able to return to school. At the end of March, OIHS had just over 80 students enrolled. Teachers have conducted their classes in the completed library, the culture huts or "sometimes under the coconut trees when it's too hot inside," Ugulmar said.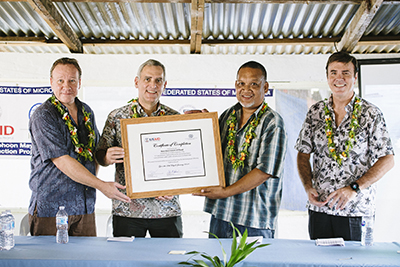 Aside from simply having new buildings, he is confident in their strength and ability to withstand possible storms. With construction completed, OIHS should be able to be back to full capacity for next school year. Ugulmar looks forward to the entire campus being up and running again. He's not the only one that feels that way.
"Not only the students, but the teachers are also anxious to get back in the classrooms," Ugulmar said.
The IOM-implemented project was completed in partnership with USAID, the FSM Government, the State Government of Chuuk and Yap, as well as the local Chuukese and Yapese communities. In addition to construction activities, USAID and IOM also issued vouchers totaling more than $2.6 million USD to 1,167 households in Chuuk and 188 households in Yap.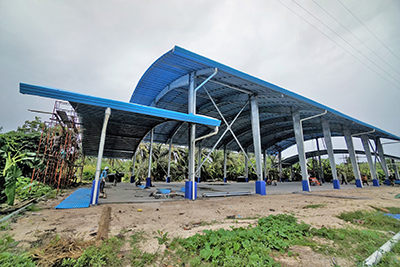 TMRP utilized a community-based approach to engage local communities, which allowed residents to directly participate in the repair of local homes and infrastructure rather than rely exclusively on contracted labor from international firms. IOM technical teams mobilized and trained 1,429 community workers in Chuuk and 216 workers in Yap in best practices and safety standards in construction. As a result of this approach, $6.4 million USD remained in communities across Chuuk and Yap.
Director of the Chuuk Disaster and Emergency Operations Center Wilfred Robert believes that community involvement is important because of "the feeling of ownership."
"When [the community is] involved, they have this responsibility — a feeling that they own it," he said in an interview last fall. "There's a sense of pride in what they have."