Details

Category: Opinion
Published: Wednesday, 21 December 2016 16:11
Written by Emelihter Kihleng
Hits: 10921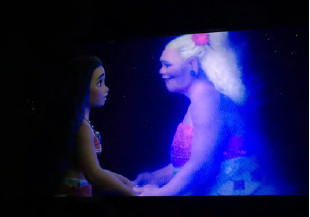 By: Emelihter Kihleng - DEC 2016
Pohnpei Cinemas has been packed since Disney's Moana opened on November 22 selling out more shows than the most recent Star Wars movie. I would know, as I've been to watch Moana twice, once on the Sunday morning of opening week and again this past Friday night. The film will have already made well over $100 million by the time this goes to print. It is no surprise that Moana is another "Disney Princess" blockbuster.
Pacific Islander academics were quick to criticize the film for the ways it continues to colonize our minds with manufactured feel good storylines and characters that are often culturally appropriated, and seek only to make Disney more money at the expense of our misrepresented indigenous Pacific cultures and peoples (scholars Teresia Teaiwa, Tēvita ʻŌ. Kaʻili and others have critiqued the film). They are right! Disney is a corporation that spends billions (yes, billions) of dollars on advertising alone; their main aim is to entertain and make a profit, not to be culturally sensitive. We in the Pacific are just as susceptible to Disney's seduction as everyone else, and in the case of Moana, even more so because it is supposed to represent us.
Add a comment