Details

Category: Sports
Published: Tuesday, 28 June 2016 08:00
Written by Bill Jaynes
Hits: 6809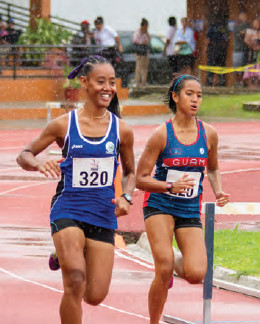 By Bill Jaynes
The Kaselehlie Press
June 7, 2016
Pohnpei, FSM—The 2016 Micronesia Athletics Championships ended in a downpour at PICS (Pohnpei Island Central School) Track and Field on June 4 but the rain didn't dampen the competitive spirit of the athletes. The games began on June 2 and featured athletes from Pohnpei, Yap, Chuuk, Guam, Marshall Islands, Nauru, Northern Marianas Islands, and Palau.
The athletes competed in 100, 200, 400, 800, 1500, 5000, and 10,000 meter races. 110 and 400 meter hurdles, long jump, triple jump, high jump, discus throw, shot put, javelin throw, hammer throw, 4x100 meter and 4x400 meter relays, octathlon, and heptathlon competitions.
Hundreds of people lined the stands to cheer on their favorite athletes. There were some remarkable performances. Rodman Teltull of Palau set a new record for the 100 meter final at 10.55 seconds, .25 seconds under the previous record.
Certainly every athlete in every event wanted to win their events and stand on the top stair during the medals presentation. The crowds cheered and yelled as the athletes thundered around the track or took flight for a long or high jump or threw some heavy object as far they could. 184 medals were awarded to 184 stunning athletes. It filled the heart with pride to see their achievements and the results can be found at www.athletics-oceania.com. Just the results for the top three medal winners span 12 pages of small print, way more than we could ever print here.
Add a comment