Details

Category: News
Published: Thursday, 18 October 2018 13:50
Written by Bill Jaynes
Hits: 4567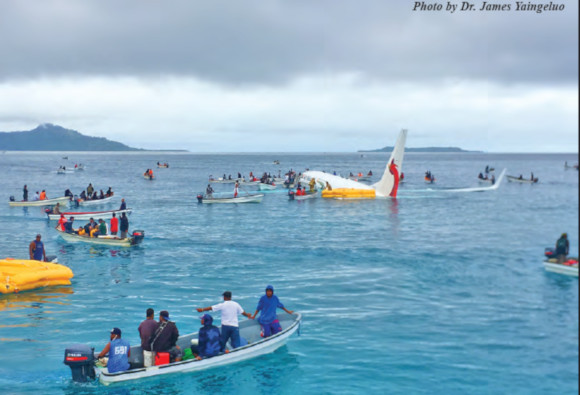 By Bill Jaynes
The Kaselehlie Press
October 10, 2018
FSM—On Friday morning, September 28, Air Niugini flight PX 073 crash landed in the lagoon short of the runway in Chuuk. I was aboard. It was the worst experience in my life but I am glad to be alive, thanks in large part to Chuukese locals who risked their own lives to save us passengers.
"I" is a very strange letter when it stands alone in a news article. "I"'m not sure I know how to handle that particular letter as a journalist but then "I"'ve never been involved in a plane crash before. "I" still don't know how to handle that fact, neither in my life nor in this article. Still, "I" know, and have heard from many, that despite the fact that my face and voice were all over international news for almost a week, people will want to hear from me, though "I" most certainly was not the only passenger aboard nor even close to the most significant. I just ended up being one of the most visible. It's such a strange situation in so many ways and I'm not sure I know how to handle it. Maybe I never will.
From the Top
I'll start at the beginning.
The Indonesian government, who recently reached out to the FSM after many years of diplomatic relations between the two countries, invited me and a few other Pacific Islands journalists for an informational tour of their country. I was heading to Indonesia when I boarded Air Niugini, flight PX 073 on the morning of September 28 after finally having received my flight arrangements only a day and a half earlier.
I was the last passenger through the security checkpoint before they said it would close. The flight crew started arriving ten to fifteen minutes later. The flight was scheduled to depart at 8:50 but at that time, boarding hadn't even begun.
Once aboard, my seat, 24F on the right side of the rear of the plane was comfortable and the flight attendants were courteous and pleasant. The safety briefing was pretty much like every safety briefing I've ever heard with one variance from my experience. Instead of instructing passengers on how to use the exit doors, the briefing said that a crew member would open the doors in the event of an emergency. I thought that was odd at the time but didn't think much more of it.
Descent begins
When one of the cockpit crew members made the announcement that we were beginning our descent into Chuuk, the flight attendants immediately had the passengers open their window shades, fasten seatbelts and put seats in the upright position. It seemed quite a bit early as there was still 25 minutes left in the flight at that point but it took nothing to comply.
As the Chuuk lagoon islands began to appear among aqua sea set against blue sky and white fluffy clouds, I began to search the lagoon for white caps. The evening before my flight a friend posted a weather report for Chuuk on Facebook that indicated a low pressure system with possible cyclonic activity so I was vigilant. It carried a travel advisory for boaters. I don't know what I thought I'd do if I saw white caps but the lagoon was calm so I relaxed into the descent.