Details

Category: News
Published: Sunday, 07 October 2018 12:37
Written by Bernd Riebe
Hits: 527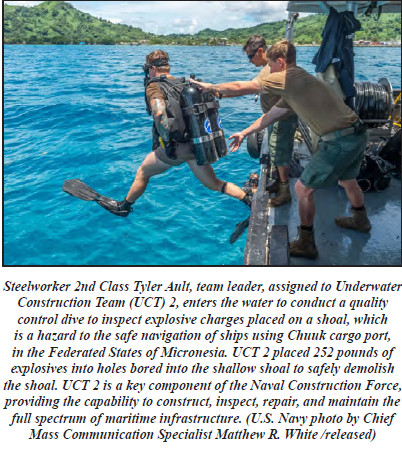 By Chief Mass Communication
Specialist Matthew R. White,
30th Naval Construction
Regiment Public Affairs
9/17/2018
CHUUK, The Federated States of Micronesia (NNS) --
Sailors from the U.S. Navy's Underwater Construction Team (UCT) 2 conducted an underwater demolition blast to remove a hazard to navigation at the Chuuk Main Cargo Wharf, in the Federated States of Micronesia (FSM), Sept. 9.
The controlled demolition removed a shallow shoal and will improve the safety of ships navigating in and out of the port.
Following a bathymetric survey of the demolition site, the blast lowered the depth of the sea floor by approximately five feet, displacing more than 3,000 cubic yards of shoal.
"We are grateful to the U.S. Navy for taking this positive and proactive step to maintain safety within Chuuk port," said Robert Riley, U.S. Ambassador to the FSM. "The action is emblematic of the steadfast and enduring nature of the security relationship that exists between the United States and the FSM, and is indicative of the close bonds that exist between our two countries. The sun will not set on our commitment to the defense of the FSM." During the preparation leading up to the blast, UCT 2 divers drilled 29 holes approximately three feet into the shoal, and filled them with 252 pounds of explosives. The controlled demolition lowered the depth of the shoal, which was initially at a depth of 20 feet below the water's surface, to approximately 26 feet. Throughout the planning and execution stages of the project, environmental safety measures were employed in accordance with the Marine Mammal Protection Act and Endangered Species Act.