Details

Category: News
Published: Monday, 02 October 2017 15:17
Written by Bill Jaynes
Hits: 2142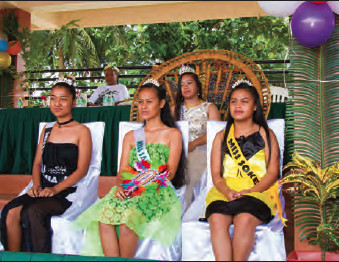 By Bill Jaynes
The Kaselehlie Press
September 11, 2017
Pohnpei—September 11 marked the 38th celebration of Pohnpei's liberation from Japan. It was on September 11, 1945 that U.S. Naval forces accepted the surrender of Japanese forces in Pohnpei and raised the American flag, ending the Japanese occupation. Though it has been 72 years since the date of its actual liberation, this year's celebration was only the 38th.
Today, the FSM and the government of Japan have had friendly diplomatic relations for 29 years. Japan's Ambassador Ryoichi Horie and his wife Yuko were at the PICS track for the formal commemoration ceremony of Pohnpei's liberation.
As the ceremony began, Miss Liberation Day Queen Chasity Salvador of Kitti and Princesses Zelain Perman, Frieda Abraham and Yasmine Ehpel took their seats on the dais. Afterward, athletes from each of the nine municipalities who participated in the games marched onto the track.
Youth for Change singers delivered a stirringly slow rendition of the Pohnpei State Anthem.
Read more: For the 38th time Pohnpei celebrates Liberation Day