Official Visit to China by President Peter M. Christian
Details

Category: News
Published: Thursday, 20 April 2017 08:19
Written by FSM Information Services
Hits: 4762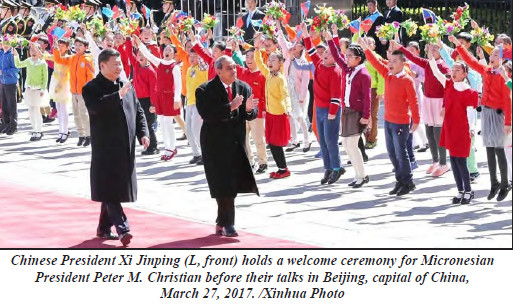 FSM Information Services
April 4, 2017 (FSM Embassy, Beijing) President Peter M. Christian of the Federated States of Micronesia and President Xi Jinping of the People's Republic of China in a first meeting of the two leaders, have agreed and reached consensus for greater cooperation. To demonstrate each other's value, both sides have agreed to further strengthen its partnership efforts. In their meeting, President Christian highlighted that both FSM and China have enjoyed a non-interrupted diplomatic relationship for 28 years, surpassing the test of time, based on the strong belief in, and respect for, each other's sovereignty and territorial integrity. President Christian acknowledged that like past FSM Presidents who have assured China of FSM's recognition and respect for the One China Policy, the Christian administration will also respect and adhere to the policy.

President Christian thanked China for all the assistance it has provided towards the economic and social development of the FSM and acknowledged with appreciation the global issues that that China has taken a leadership role in. President Christian looks toward China's leadership and continued efforts on climate change. On Globalization and free trade, President Christian stated that FSM subscribes to globalization and free trade with certain apprehension, but found comfort in its bilateral relationship with China as well as the assurances that resonated out of the Boao Forum which President Christian attended, that no one, big or small, will be left behind. President Christian informed President Xi that with that assurance, the FSM was prepared to travel on China's belt and road scheme; not only to see how it can benefit from it, but also to see how it can contribute to it.
Since the establishment of the formalized commission on economic trade cooperation with the FSM in 2014, both sides have enhanced bilateral relations based on mutual respect and common development. The bilateral relationship between FSM and China will continue to be strengthened for a win-win scenario between the two countries. President Xi welcomes cooperation in areas such as tourism, agriculture, fisheries, and infrastructure. President Xi welcomed the FSM to participate in the Belt and Road scheme. For people to people cooperation, President Xi wishes to work with the FSM to expand exchanges and cooperation at the local level to promote more programs in culture, education, and youth programs to encourage friendship and understanding between the two peoples.
On global issues, China is willing to enhance coordination with the FSM on the 2030 Agenda for Sustainable Development, climate change, and other major issues to safeguard the common interests of developing countries.
The bilateral meeting between President Peter M. Christian and President Xi Jinping concluded with a signing ceremony of an economic and technical agreement providing the FSM with 100 million RMB, as well as the forgiveness of an interest free loan that FSM had taken in 1993 for the construction of a multi-purpose gymnasium located at the College of Micronesia national campus, officially named the FSM-China Friendship Sports Center. President Christian and President Xi witnessed the signing ceremony between Foreign Secretary Lorin S. Robert and Vice Minister of Commerce Fu Ziying.
President's Christian's visit began in Hong Kong on March 18, 2017, where he met with the FSM Honorary Consul who is also the Chairman of Tan Holdings, Dr. Tan Siu Lin. In their meeting, President Christian expressed his appreciation for the partnership that exists between the two sides. President Christian acknowledged with appreciation the Tan family's continued support to the Micronesian region as evident through investments in the FSM. Dr. Tan Siu Lin wishes to continue to support economic and social development in the FSM. In addition to investments that already exist, Dr. Tan Siu Lin informed President Christian of his intention to donate a classroom building to the FSM College of Micronesia and also continue his scholarship program for FSM students to study at Quanzhou Normal University in Fujian province. The two sides will continue to work together to realize other proposed projects that the two sides deem beneficial such as continued developments in the tourism industry.
President Christian entered mainland China on March 19, 2017 via Shenzhen, China's first special economic Zone since 1980. In Shenzhen, President Christian carried out inspection visits and meetings with Chinese owned companies. President Christian met with the executives of Telecommunication Company ZTE, and the Liancheng fisheries company. Both meetings were positive and have great potential to yield valuable projects that will improve the quality of services and create more jobs and revenue for the FSM. Such examples include possible E-Government by ZTE, and the expansion of transshipment facilities and services by Liancheng.
In a meeting with Guangdong Province Party Secretary Hu Chunhua in Shenzhen, both sides reached consensus to further accelerate cooperation between FSM and Guangdong Province in areas such as fisheries, agriculture, tourism, education, culture, and medical exchanges. From the positive meeting between the two leaders in Shenzhen, an announcement was made that an FSM representative office will be set up in Shenzhen in the near future.
On March 21, 2017 President Christian and his delegation traveled to China's northern city of Harbin, Heilongjiang Province. The President was welcomed to the province by Party Secretary Wang Xiankui. In Harbin, President Christian inspected the Y12E aircraft for the FSM, which in coordination with the FSM Department of TC&I, was designed and built by AVIC HAIG. The aircraft will be delivered to the FSM this summer. During the meeting with AVIC HAIG, both sides acknowledged the close cooperation that the Y12 project created. Both sides acknowledged that the Y12 is more than a plane, but a bridge to connect the friendly relationship that exists between FSM and China. A Memorandum of Understanding was signed by Secretary Lukner Weilbacher of the Department of Transportation, Communications and Infrastructure witnessed by President Christian and delegation for further cooperation between FSM and AVIC.
During President Christian's meeting with Party Secretary Wang, the two sides agreed to further enhance relations with Heilongjiang Province through a sister city relationship arrangement and tourism promotion. A delegation from Heilongjiang province will be assembled to visit the FSM this year.
The next stop on March 23, 2017, President Christian visited Hainan Island, a tropical island province of China. President Christian's Hainan stop was to participate in the Boao Forum Conference and the 21st Century Maritime Silk Road: Islands Economic Cooperation Forum. President Christian gave two key note speeches at those separate Forums related to globalization and trade. President Christian conveyed in both forums that the FSM subscribes to globalization and free trade and is prepared to cooperate with China and other countries in the Asia-Pacific for stable and friendly trade relations.
In Hainan, President Christian met with China's Vice Premier Zhang Gaoli as well as Hainan Party Secretary, Mr. Luo Baoming. The meetings between the leaders further highlighted the successful visit by President Christian to China. In those separate meetings, the two sides reiterated the value that both sides attach to the FSM-China relations and their desires to further enhance the relationship. As islands, Hainan, and FSM both attach importance towards agriculture and tourism. Both sides agree to further accelerate cooperation in those fields. Noting the proximity between Hainan and the FSM, hopes for a more direct route and cooperation in air services through Hainan's flagship air carrier were also mentioned. Like the relationship that was forged in Heiliongjiang, a sister city relationship was also born in Hainan signed by Yap State Governor Tony Ganningyan and witnessed by President Christian, Secretary Lorin S. Robert, Iso Nahnken of Madoleniwm John Adolph, and FSM Ambassador to China Carlson D. Apis. From the Chinese side, Party Secretary Luo Baoming and the Hainan Leadership stood shoulder to shoulder to witness the birth of a new relationship between Yap State, FSM, and Hainan. Through the new sister province –state relationship, Hainan made a commitment of 50 scholarships to be used by FSM within the next 5 years (10 scholarships/ year) for FSM students to study in Hainan. A donation of office equipment were also provided to the FSM along with the range of invitations that were extended for youth exchanges, and technical transfer exchanges.
The official visit by President Christian has strengthened the political foundation of the FSM-China relationship. The meeting between President Christian and President Xi Jinping assured continued cooperation that would be mutually beneficial to both sides.
Members of President Christian's delegation included First Lady Maurina W. Christian, Foreign Secretary Lorin S. Robert, Yap State Governor Tony Ganngiyan, Iso Nahnken of Madolenihmw John Adolph and Nahnkeniei of Madolenihmw Piliana Adolph, Ambassador Carlson D. Apis, Deputy Chief of Mission Vincent Sivas, Kosrae State Senator Josaiah Waguk, President/CEO of the FSM National Fisheries Cooperation Peter Sitan, TC&I Aviation Security Inspector Glenn Harris and Compact Management and ODA Specialist Kalvin Ehmes.